---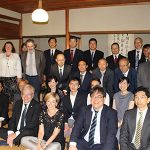 On 10 October, KyotoU's Graduate School of Medicine hosted an inauguration ceremony for the Kyoto-McGill International Collaborative Program in Genomic Medicine, a joint PhD program established earlier this year with McGill University, Montreal, Québec, Canada.
The program trains students in the use of life-science 'big data' for a wide variety of analytics applications, so that they can contribute to the advancement of preventive medicine.
The ceremony took place at the Seifuso Villa, starting with remarks from Professor Fumihiko Matsuda of the Graduate School of Medicine (deputy executive vice-president for international affairs and director of the KyotoU Center for Genomic Medicine), who provided the background and overview of the program. Professor Nagahiro Minato, KyotoU's provost and executive vice-president for strategy coordination, research, planning, and hospital administration, and Professor Martha Crago, McGill's vice-principal for research and innovation, then delivered congratulatory remarks and words of encouragement for the inaugural group of students.
Four guests then gave speeches congratulating the program's launch and expressing hope for further collaborations involving the province of Québec and the rest of Canada: Director Takashi Fuchigami of the National University Corporation Support Division of the education ministry MEXT's Higher Education Bureau; Second Secretary Christine Callahan of the embassy of Canada to Japan; Québec's Delegate General Luci Tremblay; and Director Shinji Sawada of the University Policy Division of the Kyoto Prefecture's Department of Culture and Sports. Two of this first group of students also spoke, describing their motivations and goals for studying in the program. The ceremony concluded with a photo shoot.
Afterwards, a luncheon meeting was held for those who had been involved in establishing the program. Following a toast from Dr Remi Quirion, chief scientist of Québec, participants enjoyed each other's conversation, until the meeting came to a close with an address from Professor Shinji Uemoto, former dean of the KyotoU Graduate School of Medicine.
With the program launch ceremony and luncheon meeting having concluded successfully, the KyotoU-McGill partnership is anticipated to grow actively in the coming years.
---