TGC fit my desire to widen my outlook
We interviewed Mr. Takuya Genjo, a second-year PhD student from the Department of Molecular Engineering. He is enrolled in the Top Global Course (TGC) in Chemistry for the Japan Gateway: Kyoto University Top Global Program (JGP) and did his internship in a laboratory at the University of Michigan in the U.S. for 9 months.
I was not proficient in English, but I still wanted to study abroad
My professor told me about a program for TGC students to study abroad, so I decided to apply for the TGC in March 2016, when I was a first-year Master student. I had known about the John Mung Program, which is The Kyoto University Global Frontier Project for Young Professionals, and the Ministry of Education's Tobitate Ryugaku Japan Program, but I felt the requirements were rather difficult and I had a vague idea that they were not the programs for me.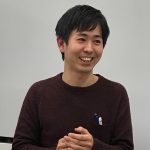 I was not good at English. I did my internship at a foreign-affiliated company in Japan, and while there, I realized my English was not sufficient. Therefore, I jumped at the opportunity to be a part of the TGC, thinking that I could improve my English while abroad.
To complete the TGC, we are required to participate in a specific activity, such as a research internship at a foreign institute, in addition to completing studies in our department. Thus, we can do research abroad in a field of study similar to what we study at home as part of our course work. I also had opportunities to dine and do experiments with foreign professors who visited Japan for JGP seminars, so I was able to discuss my study plan in a foreign institute with people I was acquainted with. The TGC is attractive because it offers plenty of these opportunities and support in discussions with the accepting institutes and professors, as well as in enrollment procedures.
Multinational, Cutting-edge Laboratory "I was lucky to join this lab while a student"
     I studied in a laboratory at the University of Michigan from July 2017 to March 2018 while I was a 1st-year PhD student. I shared an apartment with a postdoc who instructed me on the experiments, and did my research from 9 a.m. to 6 p.m. in a lab, which is located 15 minutes away from our apartment by bus. The lab was very multinational with an Indian professor and members from the U.S., Germany, India, China, Iran, Japan, and so on. I was able to learn many different research styles from those used in Japan.
I also witnessed the realities of an international lab, such as postdocs having a difficult time achieving the results they had expected as the annual renewal of their contract drew near. I believe it will be helpful in my future career that I saw how a lab actually operated while I was a student.
A chance to take an objective new look at my research
Currently, I specialize in studying the movements of macromolecules within cells by using diamonds as a sensor. While I am concentrating solely on my current research, I tend to be working all day in front of my PC or at a lab bench.
Meanwhile, the TGC offers us opportunities to attend seminars that foreign researchers are invited to and to interact with other students. Thus, we are given a chance to get away from our narrow area of expertise for a little while and broaden our perspectives. While I was in the U.S., I worked on a research topic that was a little different from what I do now. That way, I was able to get a new perspective of my research theme and methods, reaffirm them, and also acquire new techniques.
I recommend this program to students who are eager to learn about other disciplines to broaden their outlook and be challenged by studying abroad.
(Jan. 2019)