An Overseas Internship that Changed My Way of Thinking
The Japan Gateway: Kyoto University Top Global Program (JGP) Environmental Studies Course requires a long-term internship for more than 3 months. Takumi Shimizu, who did his 3-month research internship at the University of California, San Diego (UCSD), talks about his internship experience.
Hands-on Experience in an Overseas Research Environment
            I did my research at the University of California, San Diego (UCSD), from September to November 2018. To further study the relationship between the ground and heat, which was the theme of my graduation thesis, I chose UCSD, which specializes in this field. UCSD has major experimental facilities that are not available at Kyoto University (KU), so I got hands-on experience with ground behaviors that cannot be obtained by simply reading relevant theses or from performing calculations.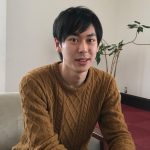 Many of the UCSD laboratory members were studying at the graduate school after already obtaining a degree in a different field, so they were generally older than those in the KU laboratory and seemed to have an avid desire to study.
      Civil engineering studies at the KU laboratory specializes in fields such as those related to soil or water. Meanwhile, UCSD seems to attach more importance to communications among people from various areas of expertise and laboratories. I had the opportunity to learn about this difference in a research environment through direct experience at UCSD.
Three month's Stay with Good Results Not Obtained in Short Trips
            I like travelling, so I have travelled abroad at least twice a year by earning money through a part-time job. I have visited 20 countries so far, though each stay was only for 2 weeks at most. On the other hand, my internship this time lasted for three months; I stayed with a family and was able to immerse myself in my research work. It was an exceptional experience for me.
      For instance, I had to communicate with the local people more frequently and in depth than during my previous travels. I became aware that I had not been trying hard enough to make myself understood clearly or to communicate in a positive manner.
      To make myself understood using my limited knowledge of English, I started to put my idea into shape and choose my words, while checking if it could be conveyed correctly and properly. Thanks to this practice, the process of my thinking changed a little, and I have come to think more logically.
The Importance of International Communication and Awareness Gained Through Experience
            More than half of the members of the laboratory I belong to at KU are international students. The multicultural atmosphere is similar to that of UCSD. I experienced difficulties when trying to arrange my long-term study period abroad, so I can now easily imagine that these students visiting Japan must also be experiencing inconveniences in various situations. Naturally, I have started to communicate with them more than before.
      Though I had already been slightly aware while I was travelling abroad, I was acutely made aware of my lack of knowledge about Japanese culture during my internship. One of the local students told me that the novel "The Dancing Giril of Izu (Izu no Odoriko)," written by Yasunari Kawabata, was one of his favorites and asked me to explain my interpretation of the beginning paragraph of the novel. I had not actually read that book, and I felt bad for him and for Japanese literature. This experience was really productive in that it made me aware of the necessity to have a deep understanding of Japanese culture so that I can talk about it proudly overseas.
      After completing my studies at the graduate school, I will move away from research work; I will be working for a broadcasting company and making TV programs. I hope I will be able to apply the expertise I gained at KU and overseas to my future career. An overseas internship is a great opportunity for you to change yourself. I do hope that students who are interested will make the most of this opportunity.
(Feb. 2019)